In terms of specific policies, there are one or two proposed changes that I will touch on in the latter part of this article; but the fact is, Mr Macron's manifesto was relatively light in detail, so we do not know exactly what he wants to implement. However, at the time of writing, 10 days after the election, we can speculate on central themes.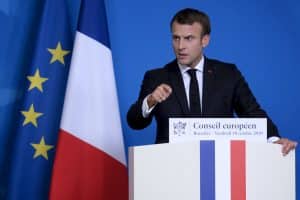 I say speculate, but some policies are already clear; for example, I think we can safely assume there will be no austerity in France. In the latter half of his first mandate President Macron, like most ruling politicians during the pandemic, turned on the spending taps. It appears that he is not ready to switch them off just yet and is likely to authorise additional spending amounting to tens of billions of euros in the next year alone.
By the time you read this, the "bouclier tarifaire", capping gas and electricity prices, may already have been extended until the end of 2022. There are also plans to continue subsidies for petrol.
Furthermore, there is talk of providing help for companies which have been particularly affected by high energy prices. Presumably this would be calculated based on a company's energy costs as a percentage of its total costs.
In both cases above, be it for individual citizens or for companies, the state is likely to step in to offset the worst effects of energy inflation.
Indeed, France is also pushing for a new European "plan de relance", to be mutually financed and to be concentrated in two specific areas: energy infrastructure and defence. Energy infrastructure and defence have, quite logically in the circumstances, jumped to the top of the priority list. One would think that a European fund to invest in these two areas is likely to gain traction, with the question simply being how many billions to spend.
The point is, for this second mandate President Macron knows he cannot ignore the popular vote, represented by strong turn outs for Marine Le Pen and Jean-Luc Mélenchon. The only policies that all French citizens can agree on is social spending. This means extra money for teachers, the police, and nurses, to name but a few. This is the mandate Macron has been given; it is what people want and, for once, there will be no pushback from Brussels.
If we turn now to specific policies, we see more spending immediately ahead. Mr Macron is proposing to reform pensions. Will he succeed? Many have tried, and failed, to increase the retirement age. However, we do know that there are likely to be significant increases to pensions (and indeed social benefits in general) in the coming months, in line with inflation.
To my mind we must hope that President Macron's government succeeds in some sort of pension reform because, with no tax rises on the horizon, as well as very significant social spending being highly likely, without pension reform the debt burden for future generations is going to grow even faster.
Talking of future generations, there is one piece of potentially good news for them. Mr Macron is proposing changes to gifting allowances, linked to inheritance planning and inheritance tax.
Currently, for example, parents can give up to €100,000 to each child tax free every 15 years. It is proposed to raise this amount to €150,000.
Additionally, to account for the reality of family make-up today, it is proposed that people will also be allowed to give up to €100,000 tax free to indirect descendants, such as stepchildren, or other relatives, such as brothers, sisters, nephews, or nieces.
With millennials finding it harder and harder to get onto the housing ladder (and now expected to work to a riper age) this may provide a welcome boost to the younger generation.
This article was first published in the Connexion in June 2022